I wrote a guest piece for Stigma Fighters on my experiences living with anxiety disorder. I also have a new Insider post on some Royals, White Sox, Mets, and O's prospects up.
Run River North first came to mainstream attention when a music video they filmed themselves in a Honda car caught the attention of the car manufacturer and led to an appearance on Jimmy Kimmel Live. Their self-titled debut album
came out earlier this year, earning them a "new band of the week" nod from the Guardian but little other press, and the album barely charted – just one week on the Billboard 200 – before disappearing. That's a bit surprising, as the disc fits right in with the recent wave of folk-rock acts that have followed on the heels of Mumford & Sons and Of Monsters & Men to find commercial if not critical success, and RRN has the raw ingredients to surpass other similar yet uninspiring acts like the Lumineers or American Authors.
The Of Monsters & Men comparison is the most apt here, as Run River North is also a sextet with male and female vocalists, although RRN only features a male lead, and they previously went by the moniker Monsters Calling Home before, I presume, someone pointed out that that hit a little too close to the mark. Where OM&M are exuberant and bold, however, RRN too often opt for subdued and precious, even though their best songs are bursting with energy and emotion from fear to anger to regret. I liked the album overall, but I found myself wanting to hear lead singer Alex Hwang just let it go and show a rough edge or two. Don't tell me you've got the feels; sing it.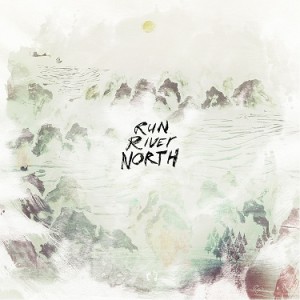 The standouts on the disc bring Hwang closer to that precipice, including "Beetle" and "Excuses," the latter of which shifts the balance more toward rock than anything else on the album. I almost wonder if Hwang's diction is too perfect for that kind of song; he's enunciating every word like Eliza Doolittle going cup-cup-cup-cup of-of-of-of when the lyrics depict a man "acting like a fool" rather than show his true feelings. "Beetle," my favorite track on the album, is the one time where their Of Monsters & Men impression clicks on all cylinders, building on a core image of someone "running from the ghost on top of the hill" and shifting energies and tempos like a car pulling a series of hairpin turns. "In the Water" dips into a minor key and uses an undulating percussion line to mimic the feeling of rocking on a boat in a swift current … until it slams to a stop for a pretty but incongruous violin line.
The new sounds here are swamped by more derivative tracks where Run River North seem to be paying homage to their influences with imitation rather than innovation. "Fight to Keep" feels culled from the discards off Mumford & Sons' Babel, while the opener, "Monsters Calling Home," could easily be from the next Of Monsters & Men record, with the same formula of sing-along "oh-oh-oh-oh" bridges between verses. But where OM&M can feel a little sloppy with their arrangements, giving the music an organic feel that I hope they don't lose as their success leads to better production, Run River North is too clean and precise, which contributes to the feeling that this is synthetic rock – music by checklist, not by emotion. Just listen to the intro to "Lying Beast," a song with a title that might lead you to expect a guttural scream to kick out the jam, but that begins instead with quiet parallel vocal that aims for plaintive and comes off as twee.
I think Run River North need to decide who they want to be – another fauxlk-rock act of the kind that are currently flooding the market, or a unique contribution to the field that takes elements of folk or traditional country in a new direction. The band members are all Korean-Americans and sing often of the immigrant experience, with frequent references to "home" as an abstract concept and "name" as a metaphor for identity, so they have something different to say from other artists, many of whom have appropriated these intrinsically American styles of music and merged them with traditions from their own countries. The challenge for Run River North is to turn their technical prowess into more compelling, authentic songs that stand out from the surfeit of similar acts on the scene.